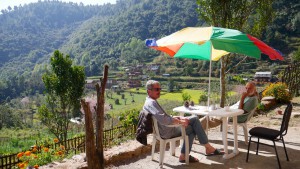 Situated just a short distance from Kathmandu in the green hills of Dollu near Pharping, the Solid Rock Lodge & Restaurant is the ideal destination for a peaceful and relaxing stay away from the city. Here you can enjoy authentic Nepali village feeling in a friendly and well-run place. The restaurant is set up in a traditional farm house and accommodation is in newly constructed guest cottages. All rooms have an attached bathroom and separate veranda. The location is only 13 km south of Balkhu on the Kathmandu ring road and can be easily reached for a day trip or for an overnight stay.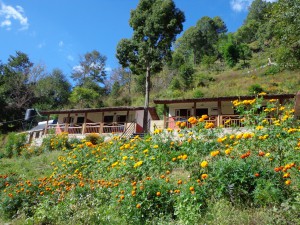 Solid Rock's combination of beautiful nature and nearby places of interest offers a unique opportunity to experience the Nepali countryside. Whether you are interested in walking or hiking, visits to temples and monasteries, yoga and meditation, local village culture – or just want to relax and enjoy the good food and ambient atmosphere of the lodge and restaurant – Solid Rock is the place to be.
We look forward to welcoming you to Solid Rock! Please call us for bookings, group visits or special requests; we are always ready to go the extra mile to make your stay a memorable and pleasant experience. Namaste!
          * FREE WI-FI             * 24/7 ELECTRICITY BACK-UP             * SOLAR WATER HEATING SYSTEM             * GOOD PARKING FACILITIES