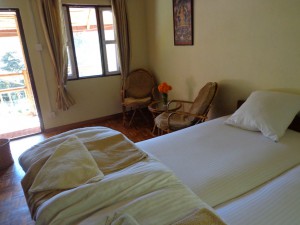 Solid Rock has six comfortable and spacious double rooms in three guest cottages placed on high ground east of the restaurant building. All rooms have parquet floors, attached bathroom with hot/cold water and a separate veranda. The rooms are nicely equipped with two beds, a small wardrobe, bamboo armchairs and sofa table. Chairs and table can easily be moved for use on the veranda, from where you have fine views to the nearby fields and surrounding forests.
Room rate for all rooms is NPR 3000 per night. Extra bedding can be provided at an additional rate of NPR 885 per night. Prices excl. VAT. Discounts are available for groups and for stays of longer duration. Please call us for further information on special package rates.
The Solid Rock guest cottages are constructed of sustainably grown bamboo, using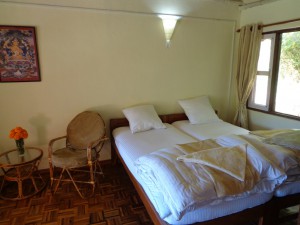 a South American technique known as bahareque. A double frame of bamboo cane is tied together with metal wire and covered with plaster of cement mortar creating a flexible, yet very robust wall structure. The bahareque technique has proved highly resistant to earthquakes in countries like Colombia and Costa Rica. The technique is being transferred to Nepal as part of the effort to improve earthquake preparedness in the wake of the great April 2015 Nepalese earthquake.