Our Story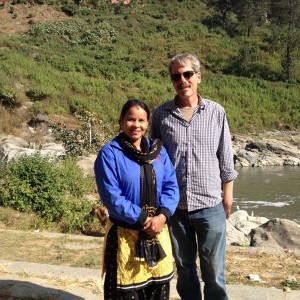 Solid Rock Lodge & Restaurant is run by Danish expat Christian 'Simon' Simmelkiaer and his Nepalese wife Mina KC. Simon's connection with Nepal dates back from 1977 when he first arrived in Freak Street after travelling overland from India. A social anthropologist, with a special interest in South Asia, he went on to study the changing culture of the Kullu Valley in the Indian Himalayas. He returned to Nepal in 2008, as manager of the UN Volunteer program, and later he worked as the COO of a Danish IT company. After the 2015 earthquake he decided to camp out in Dollu, where he discovered some sense of safety and stability. While reevaluating his life, Simon remembered his dream, dating back to his backpacking days, of running his own lodge. Over 35 years after arriving in Nepal first, Simon took concrete steps to realize his vision for establishing a comfortable hide away in one of Kathmandu Valley's most stunning locations. Solid Rock Lodge & Restaurant is the outcome of this effort. Mina KC, a student and social worker, has supported Simon along the way, and nowadays focuses on guest relations and the greening of the property. The two will make sure you feel right at home.
About Solid Rock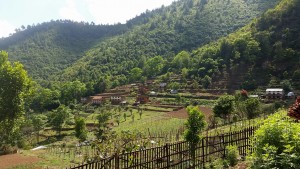 Solid Rock Lodge & Restaurant opened for guests in August 2016, providing an exiting new alternative for visitors to the attractive area around Pharping. Located on a green hillside above Dollu village (altitude 1760 m.) the lodge has splendid views of the surrounding forests and fields. Solid Rock features an organic vegetarian restaurant established in a traditional Nepali farm house and six comfortable guest rooms built in newly constructed earthquake resistant bamboo cottages. The area around Dollu and the neighboring town of Pharping is also known as 'Little Tibet' because of its eight grand Tibetan gumbas, home to 5,000 Buddhist monks. The Solid Rock Lodge & Restaurant is located at the valley's edge, and looks out across green hills, farmers' fields and traditional village homes.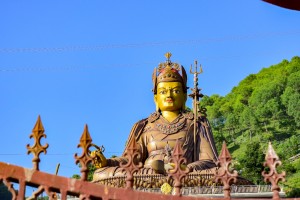 Another attraction is the village's spiritual significance. In the eight century, Padmasambhava, the founder of the Nyingma lineage of Tibetan Buddhism, used the local caves to meditate with his Nepali consort Shakya Devi. After reaching enlightenment he is said to have conquered the man-devouring goddess Dakshinkali and built her a temple, before moving to Tibet. A famous pilgrimage destination for Tibetan Buddhists, for whom the place is as sacred as Bodhgaya, the area is now on the tourist map with the giant Padmasambhava statue (40 m high) and lots of possibilities of experiencing a very unique religious and cultural environment. Hikes across the hills connect Dollu to Pharping and the famous Champa Devi trekking route. Rock climbing is being promoted and the area is already known as a paradise for bird watchers and nature lovers.